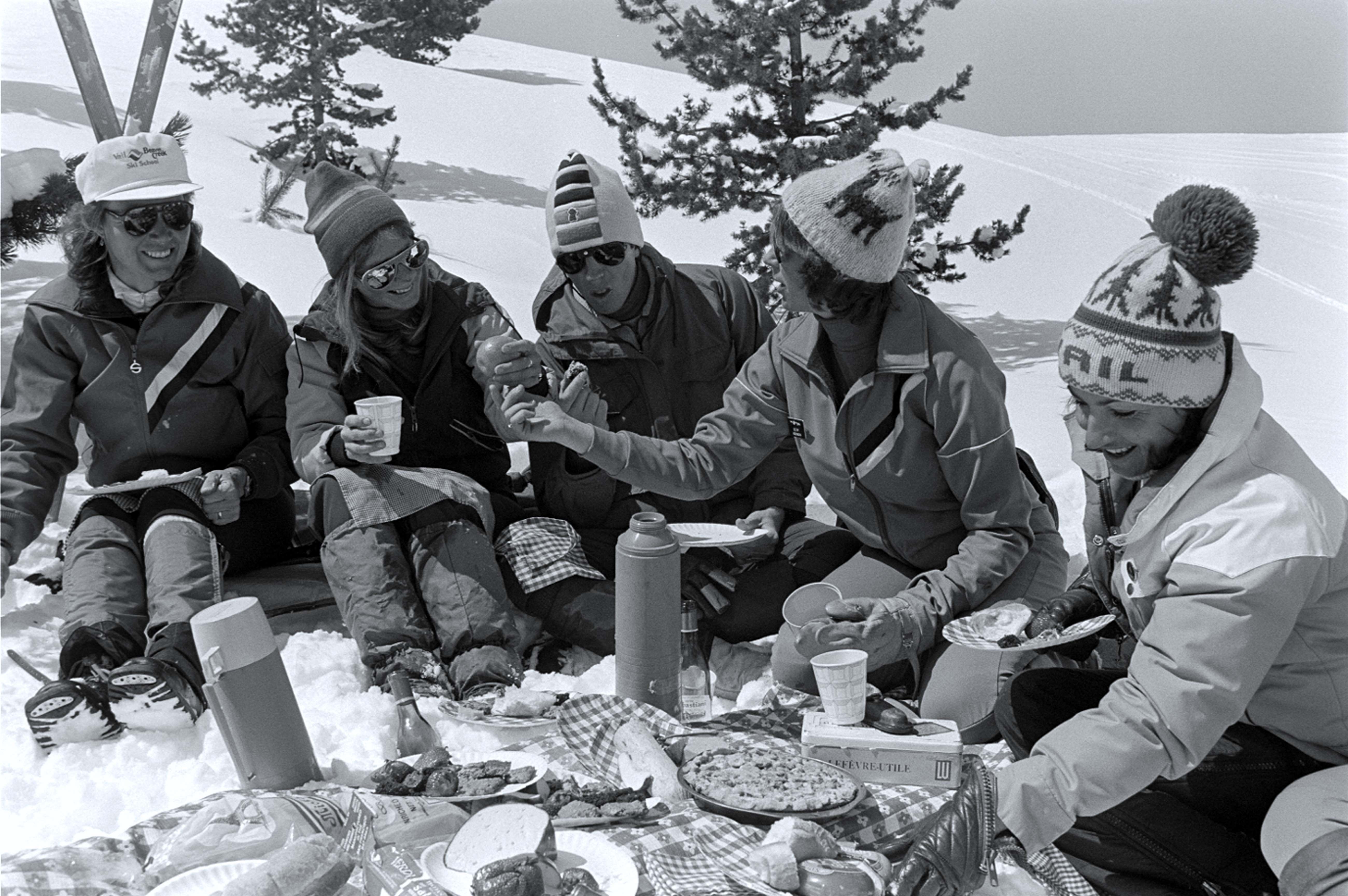 Our Story
Over 60 years of hard-won success serving communities across Colorado.
1962

Rod Slifer, ski instructor/Realtor, starts his one-man operation out of the lobby of the Lodge at Vail, selling properties for Vail Associates.

1968

Rod Slifer opens his own brokerage, Slifer & Company, on Bridge Street. As Vail grows, so do Slifer & Company and Vail Associates Real Estate.

1983

Jim Flaum, a real estate veteran and former Navy pilot, becomes vice president and managing broker of Vail Associates Real Estate.

1986

Harry Frampton and Mark Smith form East West Partners, the major force of the development of Beaver Creek Resort.

1988

Harry Frampton and Mark Smith open Frampton Smith Real Estate, concentrating on the newly-formed Beaver Creek market.

1994

The two top dueling powers of Vail Valley real estate merge, forming Slifer Smith & Frampton Real Estate.

2004

Opened offices in Summit County, the first located at 117 S. Main Street and Keystone Resort offices. Two more offices would be opened on Main St. in Frisco and 211 S. Main St in Breckenridge in 2013.

2019

SSF grows again with the acquisition of Palladium Properties, a boutique and independent luxury property brokerage firm based in Aspen and the Roaring Fork Valley. Palladium Properties founder, Krista Klees, joins Slifer Smith & Frampton as Executive Vice President and Managing Broker overseeing operations throughout the Roaring Fork Valley.

2020

Slifer Smith & Frampton Real Estate awarded development sales listing for the $600 million Snowmass Base Village, expanding its presence in the Roaring Fork Valley.

2020

SSF is a proud founding member of Forbes Global Properties, a luxury real estate marketing platform showcasing the world's finest homes and the stories behind them. Forbes Global Properties leverages the audience and worldwide reach of Forbes, one of the most trusted media companies for the last 100 years, to engage, inform, and delight buyers and sellers of luxury properties.

2021

Slifer Smith & Frampton Real Estate restructures leadership and Chris Lankhorst is promoted to Market President of Summit County. He is one of four Market Presidents: one in the Roaring Fork Valley, one in Summit County, one in the Vail Valley and one in the Front Range. This management change brings SSF even closer to the customers and the communities it serves.

2022

Slifer Smith & Frampton Real Estate acquires legendary Boulder Valley brokerage Colorado Landmark Realtors, expanding reach across the Front Range of Colorado. We also welcomed Orly Ripmaster from the Colorado Landmark team into her new position as Market President for the Front Range.
Testimonials
" Fantastic relationship. He made the transaction work — from being the first broker on the scene to navigating the various challenges of the transaction. Eric and Kelsey were Uber responsive. THANK YOU!! "
- Jon Langenfeld
" By our own choosing we came into town for a "whirlwind' weekend of visiting properties...and did you deliver. A total of 32 days from our initial phone contact to closing. Oustanding service! It is refreshing and reassuring to meet and work with a company and someone who provides such exemplary service. Thanks again for an excellent job. "
- David Allen
" Eric Klein does a great job. He ie very professional, knowledgeable, and honest. Overall he is a fun guy to work with. I have a lot of respect for his work ethic. "
- Jack Staley
" I was in constant contact with Mr. Klein, and he followed up by answering all of my questions. He sold the condo in two days! Amazing. I received almost 200k over what I expected when I first decided to sell. It turned out to be a very wise choice of realtor selection. "
- Bill Belmear
" Honest, fair, diligent, creative, professional "
- Alfred McConnell
" Eric Klein is the first broker that I can say really satisfied our needs from the minute we decided to work with him, and this is our fourth real estate transaction. He listened to what we wanted out of a transaction, he was honest about the challenges that we faced, and he stuck through some very difficult challenges in the process, mostly driven by the seller. At the end of the day, we are now in a property we are extremely pleased with, and it would never have happened without the hard work and investment of time from Eric. "
- Leonid Zheleznyak
" Eric has now assisted me with three transactions and I would not use any other agent. He is professional, knowledgeable and gets the job done. "
- B. Osborn
" Eric Klein takes care of everything way beyond what any other real estate agent I've ever experienced does. "
- Kneale Brownson Rev. Trust
" SSF was wonderful to interact with and made it so easy to sell our property remotely. I highly recommend them to anyone looking to buy or sell in summit county. "
- Brian Welch
" Eric Klein has great people skills, gains peoples confidence quickly, has a great feel for the market and understands his customers needs. "
- John Gerlach
" Loved working with Eric and Kelsey. They were very professional as well as helpful and responsive to our concerns and limitations due to COVID and the distance. "
- Carol Lieber
" Eric has a very in depth understanding of real estate in Summit County. You would be hard pressed to find a property he is not familiar with. I appreciated his local knowledge and experience with other brokers which was absolutely needed in the current super competitive environment. "
- 2194 S. Washington, LLC
" Eric Klein is courteous and professional with his business dealings. He's Great to work with. "
- Tajiguas Creek
" We've worked with Eric Klein for almost 20 years and through 5 transactions. He understands our family's needs and patiently and professionally guides us through a complex process. We've done incredibly well in real estate thanks to Eric bringing us to opportunities before they were even on MLS. His network, reputation and construction expertise are unparalleled. "
- Mark Stafford
" Service - could not have been better! Quality operation - comprehensive - made the sales process much easier than we expected Agents do whatever it takes -- we never heard - ' that is not my job!' Extremely responsive to requests for help or information. Eric and Kelsey made sure our pricing was competitive and timely in a competitive Frisco market Grateful for their service "
- Jan Devereaux
" They both worked great towards helping with the sale of our home in Frisco. Thank you.. "
- Steve Skluski
" Eric Klein did an incredible job for us in Frisco. The process was professional and seamless. He was "on it" from offer strategy to closing. "
- John Murray
" This is our second real estate transaction with Eric Klein and Kelsey Withrow as our brokerage team. Once again, they've proven to be the best realtor team we've ever worked with. Eric listened carefully to our goals and executed on a plan to deliver a transaction that met every goal. Both of our transactions had some unusual challenges, but Eric handled those challenges with tremendous skill and efficiency. These challenges required expert levels of transaction strategy, contractor relationships, local market knowledge and home-specific knowledge. We have complete trust in Eric to handle any real estate transaction and highly recommend him for a transaction of any size/complexity. "
- Michael Kitson
" Eric was excellent at keeping us informed about every aspect of the sale of our condo in Frisco,Co. He responded and handled everything we ask of him immediately. Very professional. Everything i said about Eric applies to Kelsey Withrow also, great team. "
- Mary Ermer
" We were extremely pleased with their services; knowledgeable, professional, understanding and detail oriented; they exceeded our expectations. "
- Dan Stanescu
" Eric cares about me and my family and always does what is best for us. No resource was he without, when it came to homeowners insurance, movers and cleaners etc. He even came by with some beer as we were settling in. He is truly an exceptional realtor. "
- Jenny Stafford
" Eric and Kelsey were a great team. They are true professionals. From setting up property tours around our schedule and sending information on properties as they came on the market, they kept in touch in preparation for our visits. Eric was helpful in explaining the inner workings of mountain homes, like the different types of heating systems. He answered thousands of questions. Eric understands contracts and the quirks of lending and knew how to address every issue, such as personal property being transferred and credits for inspection items, in an ethical and up front manner. I handle real estate closings in Florida and I wish every agent were as professional and outstanding as Eric. I will highly recommend Eric and Kelsey to any friends, family and strangers looking for real estate in Summit County. "
- Kristin Conroy
" We happily lived in Summit for thirty years. Your real estate company has the strongest marketing and a solid reputation.We are extremely satisfied with Eric and Kelsey's guidance and performance. We will recommend them to our friends and neighbors. "
- Mark Schmid
" If you are looking for excellent service for buying or selling, look no further than Slifer Smith and Frampton. We have purchased two properties, and now sold one through this firm. Eric Klein and Kelsey Withrow are fantastic to work with. They fielded all of our questions; and took care of scheduling for all of our needs from plumbers, electricians, . They are a full-service operation, which we desperately needed because we don't live in Summit County full time. We will not hesitate to hire them for any of our future real estate needs. Whether you are a 1st time buyer in Summit County, or you are looking to make your next local move, definitely consider working with this team. "
- Jessica Reigel
" Easiest, most straightforward real estate transaction I've experienced out of about a dozen. "
- Joyce Burford
" We were very pleased with our overall experience from start to closing. "
- Roger Paluska
" We had worked with Eric and Kelsey on a previous sale and were very pleased with their professionalism. We called them again to handle the sale of the Falcon Circle sale. No regrets. "
- Bob & Sally Schleu Family Trust
" We were really pleased with our experience in purchasing our second home in Frisco, and after working with different broker at a different firm for a short amount of time, Eric was a HUGE improvement. He really listened to us, and even when we conflicting in our wants, he helped us sort thru that. He also had market intel and information that only comes from living and working in the community for a long time. This was a huge benefit in our search and ultimate purchase.   "
- Lisa Firestone
" Eric, Eddie and Kelsey are a very competent, professional team who were able to lend advice and listen to my needs. Together we successfully sold my home at a record price and price per square foot in my region. Thanks team! "
- Christopher Boone
" It was a pleasure working with you on the sale of our personal residence. Your professionalism is a credit to all Colorado real estate brokers. Summit County could use more brokers like yourself. "
- Bob Bianchi
" We were very happy with our experience in purchasing a second home in Keystone. We were overwhelmed with the personal attention we received from our realtor, Eric Klein and his team. They were indispensable in guiding us through the process. Eric continued to offer his support even after the closing of our property. We would absolutely recommend Slifer Smith and Frampton to anyone considering purchasing a property in Summit County. "
- Chris Buxton
" Very satisfied with SSF and Eric. Have recommended SSF & Eric to several of our friends who will be selling in the future. "
- John & Marci Whitehead
" Eric Klein and his team went the extra thousand miles for us in order to sell our home. Our home presented on the extremely difficult side when it came to selling, and not once did we doubt that we had chosen the right broker to get it done. Eric and his team were not threatened by the challenge. Through every conversation they made us feel like they had every aspect under control, taking the weight right off of our shoulders. We have worked with his team on three separate transactions now, and would challenge anyone to find a better broker than Eric. He and his team are a group you can TRUST. "
- Morgan E. Sneller
" Eric Klein did an outstanding job in marketing and selling our Breckenridge home. Eric's experience, skill, and great communication made for a smooth and successful transaction. We have used Eric's services in the past during a purchase that went equally well. We look forward to choosing Eric again next time we are buying or selling in Summit County. "
- Dave Nelson
" This is our 2nd time working with Eric Klein, and the first working with Kelsey Withrow. Both agents are consummate professionals that will guide you through the purchase of your new property. We are in the process of also selling a property with them. Their attention to, and help with, all of the fine details of the transaction have been life savers since we cannot always be in Summit County during the process. I would recommend them, and the Slifer Smith and Frampton team, to anyone. "
- Jessica Reigel
" Eric and Kelsey were just the BEST! They were always available, professional, personable and knowledgeable. We also liked the reach of SSF, and their different marketing programs. We highly recommend them! "
- John Earl
" Eric went above and beyond to help us with our sale and purchase. When my nephew was caught in a Colorado blizzard, Eric met him (and his wife and newborn baby) at our listing and let them in so they could stay the night in safety and comfort. We will never forget Eric's willingness to drive in that storm to help us out. "
- Joe Rooney
" We've dealt with other brokers before, but this is the first time we have ever encountered such friendliness, dedication, personal attention and attention to detail. Signing our contract and closing in less than two weeks went smooth as silk due to your experience and professionalism. Your vast network of contacts handled the various items we wanted to accomplish at the home and we felt comfortable that things were always handled. "
- Ron and Vivien Bowers
" Our family has worked with Eric Klein for 20 years in Summit County. Out of all of our professional advisers, Eric is the one we trust the most. He understands our changing life circumstances and helps us balance that with our financial and real estate goals. Eric has steered us through the sale of a small condo in the depressed mid-2000s market to a sale and purchase of unique single family homes in the record breaking 2022 market. His construction background and long time local status in Summit County makes him uniquely qualified to see more that a house's finishes. Eric and Kelsey ensure that all details of the process are taken care of, including referrals and coordinating renovations and inspection punch lists. They truly go above and beyond and are like family to us. We are so fortunate to have such an experienced, professional, and compassionate team helping us! "
- Mark Stafford
" Eric and Kelsey worked hard to get our house prepped for market.... we had dealt with a very difficult basement remodel due to a basement flood of an improperly installed water line coming into the house and Eric helped us on that to. they had a decortor come in and stage the place....looks better than we ever had it. "
- Mark Voboril
" Many thanks for your help in finding me the mountain property that was just right for me. The best part was feeling that I had a friend at my side - not a salesman. The second best part was your in depth knowledge of Summit County real estate. "
- Janice Ward Parrish
" Eric was experienced, professional, thoughtful. His ideas and strategies were valuable throughout the process. I will recommend him and Kelsey highly. "
- Mollie Brunetti
" My wife and I have bought and sold several homes, and working with Eric was the best experience we've ever had (or heard of from others). The guidance on pricing and enhancing the value of our home was spot-on, and we felt like he was giving us objective advice reflecting our best interests, not his. Eric personally committed to this project and communicated clearly and at the right intervals. "
- Scott Ullem
" Eric Klein far exceeded my high expectations! He went well beyond what any other Agent would have done! He helped in every step of the way including assistance in removing furniture left behind by the previous tenants.He kept me informed on each step of the process in a timely way! Moreover, he enabled me to sell my property for significantly more than what other Realtors wanted to list the property! I couldn't be more please with the professional experience and outcome that I received from Eric! "
- Dave Servinsky
" What a pleasure it has been to work with Eric and Kelsey! Experience, timely responses, ability to listen, professional knowledge and a great sense of humor and caring. Our time and the advice they shared helped us greatly as we listed, priced and soldour home. We highly recommend them. Thank you Kelsey and Eric! "
- Maureen Westerland
" Relentless pursuit of my home! Appreciate all the hard work. "
- Erik Jakobsson
" Eric and Kelsey are an excellent and very professional team to work with. They understand the real estate market in Summit County, as well as, having a keen sense of judgment of buyers and sellers. Which means, they know how to match up buyers and sellers and what homes are good fits for each, etc. They do not shoot from the hip about anything! You will hear the truth about all aspects of the process. With their experience, they will guide and suggest how to best position your property to get top dollar for it! The tools available to them are amazing. Also, being affiliated with Slifer, gives them an extra edge with reputation and marketing reach that most brokers do not have. We highly recommend them to anyone, whether you are a buyer or seller. In our situation, they were on both sides of the deal and could not have been more professional with the entire handling of the transaction. They are real winners! "
- Jan Patschke
" Working with Eric and Kelsey was an outstanding experience. "
- Robert Nelson
" Eric Klein is an outstanding broker! He is very responsive, professional and personable. SSF does an excellent job in regard to promotion of properties, which is one of the reasons we selected them. I would highly recommend both SSF as well as Eric Klein if I were selling or buying in Summit County, CO. "
- Joan & Greg Oakes
" Eric and Kelsey did an excellent job finding the right property for us and making the transaction as smooth as possible. We had a busy travel schedule at the time and they met all the set deadlines. I would highly recommend their services to our friends! "
- Steve Stroud
" Eric Klein was a pleasure to work with on the purchase five years ago and also on the sale of the property He and Kelsey are professional, honest in their evaluation and valuation of the property and an absolute pleasure to work with. They kept us well informed from pre-listing through the closing. "
- Mark Stieren
" Eric and Kelsey are great. We would use them again. Appreciate the great communication. "
- Jeff Giullian
" One of the best parts about buying or selling a home is the relationship with your broker. I can honestly say that it doesn't get better than Eric Klein and Kelsey Withrow. They team together to give the absolute best service possible. There wasn't anything left out and I was amazed with the over-and-above anything I expected service that they provided. They treated me and my home as if we were family, taking care of every little detail. I am incredibly grateful to have worked with them. "
- Paula L. Fowke
" I've bought 20 homes in my life (and sold 17). Homes located in North Carolina, Indiana and Colorado. Eric is far and away the best broker I've ever worked with. He struck the perfect balance as to his involvement in our process. He somehow knew the appropriate time to reach out and the appropriate time to allow us to evaluate the situation. He knows the Silverthorne real estate market inside & out and importantly, knows the things that a buyer needs after the closing. I would highly recommend Eric for any transaction in Summit County. "
- Michael Kitson
" You have been a great help to me since we first met when I was looking for the movie theater in 2003. Since we live in North Carolina we had a limited time to look for property. I was very impressed with your ability to understand our family's needs and desires and locate a property that was as close to perfect as possible. Your preparation and interest on our search showed commitment to us even though we were considering various areas. "
- Alexandra Milmoe
" Do your bosses have any idea of what a gem you are to work with and the amount of time and energy you put forth for your clients? If not, have them give us a call anytime. You are a consummate professional! "
- Randy Grogger
" Eric and Kelsey were awesome! They were professional, personable, organized and made the selling experience a no-brainer for me! I have bought and sold many houses in many areas of the country but this was the easiest transaction of all. "
- Janice Parrish Trust
" If you were to ask me "Are there any specific ways your realtor went 'above and beyond' for you in this transaction?" Why, yes! Eric was incredible. We had a great strategy from the start. We bought first, so we were able to move out and get the home perfect before listing. But we moved out of state and really needed to lean on Eric to arrange for the handyman to stain the front door (first impressions) and run through a punch list of hard-to-do things including moving a heavy piece of art. Carpets cleaned. Staging complete. Three offers in the first 48 hours. This home sat on the market for a year before we bought it a few years back and now we are selling it over a weekend. Thank you, Eric! "
- Joe & Lori Rooney
" I always appreciate the way Eric follows through and continues to do so after the sale. He makes good efforts to stay in touch and takes a real interest in the welfare of his clients. I highly recommend his services to anyone looking for real estate in Colorado. "
- John Chiavacci
" Eric was professional and courteous every step of the way. So much so we trusted him and worked without an agent on our side of the transaction. He understands the client base and is attentive and knowledgeable. "
- Diedre Gray
" Eric and Kelsey were great. They took care of everything for us. "
- Rick Pott
" Eric and Kelsey were great. Transaction was smooth and we would use them again. "
- Stephen Phillips
" Eric did a great job. "
- David Core
Previous
Next